CLIENT-FOCUSED
We prefer to work with clients who are interested in taking on properties for the long-haul. Therefore, clients with Built-to-Suit needs will find us a perfect fit.

BEST IN CLASS QUALITY
We specialise in developing Grade A logistic parks which state-of-the-art building specifications. This includes but is not limited to FM2 Flooring, FMNL Fire infrastructure specifications and fully insulated PEB Sheets.

TIMELY DELIVERY
Our record, particularly with respect to Amazon DEL5 Warehouse, is the most profound evidence of our ability to execute complex land acquisition and project execution work in a timely manner.

DYNAMIC & EXPERT PERSONNEL
With experienced team of in-house Project Managers, Land and Compliance-specialists – all backed with visionary leadership from the promoters, Skymettle is ideally placed to capitalise on opportunities in industrial infrastructure sector.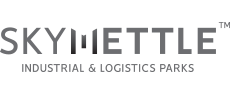 Skymettle Infrastructure, is a part of Devesh Food & Agro Products Pvt. Ltd. Headquartered in New Delhi, Skymettle's vision is to be the premier warehouse developer in India. Skymettle exhibits a broad bandwidth of services ranging from Project Execution to Land Acquisition in warehousing marketplace.
Skymettle Infrastructure Pvt. Ltd.
G-2, G-29, Salcon Rasvilas, Ground Floor,
Saket District Centre, Saket,
New Delhi-110017, India
Copyright © Skymettle 2018